TANGO PORTEŅO
Show + Private Transfer USD 87,90 USD 54,90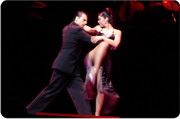 Ticket Show: USD 87,90 USD 54,90*


Dinner Show: USD 122,90USD 94,90*


Executive Dinner: USD 149,90 USD 139,90*


Executive Show: USD 104,90 USD 94,90*


VIP Show: USD 169,90 USD 159,90*


VIP Dinner Show: USD 249,90 USD 229,90*



*Transfer back will be provided by the standard Service. The offer is according to payment method but you will always get the best deal.

In the very heart of Buenos Aires is Tango Porteño, the largest Tango House in the city, with the most extensive chorus line and orchestra which inhabits this classic Porteño beside the Obelisk, in a mixture of stage tango and traditional tango under the best Music Hall style. They bring free optional Tango lessons.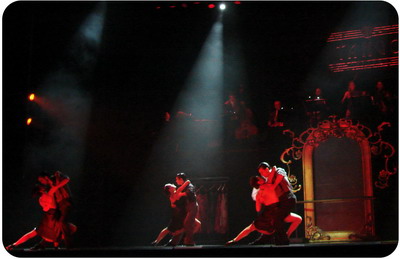 Basic Information:

Schedule: 7.30 pm optional Tango lessons,8,30 pm dinner, 10.10 pm show
Pick up: Free for San Telmo, Recoleta, Madero and Downtown.
Duration: 1,30 hours
Payment in: $Arg, Cards, US$, Euro. Rates shown have a discount
INDIVIDUAL TABLES
Orchestra: 12 musicians on stage
Singers: 2
Dancers: 14
About Tango Porteño Dinner Show:

This Art Deco huge Theater is probably the best located in town, Tango Porteño is in the beating center of Buenos Aires, facing the Obelisco, embodying the purest tradition of the Tango Show. Its enormous stage is the perfect place to develop a very elaborated set of choreographies as well as to take advantage of the height and to deploy behind the first line to the largest Tango orchestra of Buenos Aires. This Tango Show house is one of the few which offers free optional Tango Lessons.

Tango Porteño Buenos Aires focuses on the essential sensuality of Tango in order to compose beautiful figures in the individual dances and takes advantage of the space for a great display in group dances. The aesthetic of the show uses the tango icons as the old street lamps, the obelisk (It is the closest show to this Buenos Aires monument) and the tin houses of La Boca. It also takes (and is the only show in it) the figure of Evita to sing the classic theme of the music hall.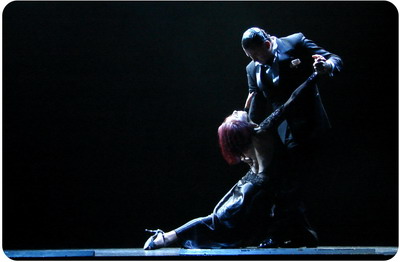 The Tango Porteño Buenos Aires orchestra perfectly fulfills its role with a compact and marked sound, accompanying the two singers. The show incorporates in a novel form the Theater of height when incorporating a number of fabrics that accompanies the singer.

In general terms this is one of the most colorful Tango shows in town with an innovative use of the space but respecting the tradition of Tango, that is the reason why we call it Tango Music Hall.

The design of the venue is according to the Art Deco times which is the Golden Age of Tango, in those times and close to this theater, was done a the first retrospective of the Tango called not by chance, "Tango Porteño".

The highlights of the menu at Tango Porteño are the empanadas (local meat pie), the chorizo beef and the chocolate marquise as dessert. You can enjoy it in individual tables.

Tango Porteño Buenos Aires, in the very beat of Tango.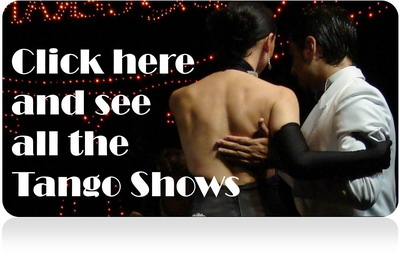 Tango-porteņo-tango-show-buenos-aires