ESQUINA CARLOS GARDEL
DINNER + Show + Transfer US$ 140 US$ 109,90

Couple at Esquina Carlos Gardel
This nice Theatre decorated like Belle Epoque times honours his most important visitor: Carlos Gardel, the top Tango Singer, who spent many nights in the place when it was a cabaret.
The show is a perfect merge of Stage Tango and Tango to Floor, supported by a powerful orchestra runned by a violinist lady that will charm you. Dancers does both styles perfectly, as couples as when they do group plays. The singers and the guitar players are also spectacular.
This is one of the most accurate and authenthic Tango Shows of Buenos Aires. The Service is absolutelly dedicated and friendly but also educated. Tasty food specially this ones we suggest: Cream soup of fine asparagus tips, Trout with Martini cream, and Bonbon covered in almond crisp, but you can also can order empanadas and chorizo beef.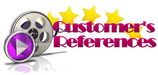 Agenda Info:
Schedule: 8,30 pm dinner, 10.10 pm show
Pick up: Free for San Telmo, Recoleta, Madero and Downtown.
Duration: 1,40 hours
Pay in: $Arg, Cards, US$, Euro. Rates shown have a discount
Orchestra: 7 musicians on stage
Singers: 2
Dancers: 10
Guitar Players: 3
Rates (BOOK NOW!)

Ticket Show: US$ 93,90


Dinner Show: US$ 140 US$ 109,90


NOW ONLY USD$ 109,90!! WITH FREE PRIVATE TRANSFER TO THE PLACE
Transfer back will be provided by the trusty standard Service.
The offer is according to payment method but you will always get the best deal
VIP Show: US$ 185,90


VIP Dinner Show: US$ 273,90